Our Pastor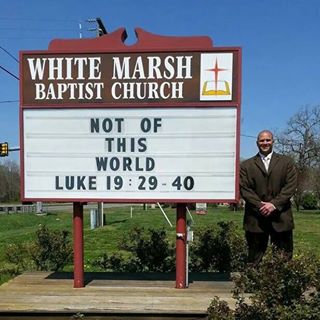 Pastor Kevin lives to spread the gospel of Jesus Christ. His passion is reflected through his preaching and teaching. He is humbled and honored that God has chosen him as the anointed vessel to preach, teach and encourage the people of White Marsh Baptist Church and the community. As a bi-vocational pastor, Kevin is privileged to shepherd the flock at White Marsh while continuing to work in the community in which he is called to minister.
Pastor Kevin is a native of Gloucester Country, Virginia. He is one of six children. The seeds of encouragement were planted in him at an early age to seek a future in the ministry. God watered the seeds and molded him into the "Man of God" that he is today.
Kevin surrendered his life to Christ at the age of 27. Called and licensed to the Gospel Ministry in 2000. He was ordained in 2004 under the mentorship of Rev. Frederick R. Carter, Pastor of Shepherdsville Baptist Church, Gloucester, Virginia where he received much of his training. He holds an Associate in Biblical Studies from Friendship Institute of Theology, and a Bachelors of Theology from the North Carolina College of Theology.
Kevin resides in Gloucester with his wife and their children. He treasures the time he has with his family. He looks forward to family outings and time spent with them. He enjoys coaching youth football and being thankful and blessed for the life that God has handed him.